I am participating in a crop over at
http://www.mommysavers.com/
. Come check it out there are great challenges and prized too! The Theme is "Clue". So my first card was for a challenge to do a monochromatic color. I chose to do Mr. Green and use...you guessed it GREEN. Here is my take on the challenge.
The next challenge I did was to make a card using tags or a tag. I chose to make a Halloween card.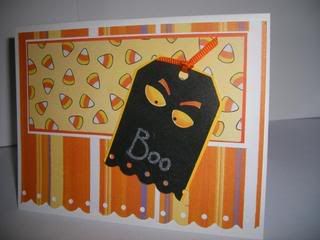 Hopefully I can get some more done by Saturday. I will post them all for you to enjoy!
Here is another one:
WHO
Colonel Mustard--2 patterned papers
Mrs White --4 patterned papers
Professor Plum-- only 2 colors (ie brown/pink, orange/black)
Mrs Peacock--Cuttlebug/embossing
Mr Green--stripes
Miss Scarlet--polka dots
WHAT
Wrench--stamps
Rope--chipboard
Candlestick--rub-ons
Knife--anything shiny (bling, glitter, stickles)
Lead pipe--tags
Revolver--punches
WHERE
Hall--ribbon
Lounge--eyelets/brads
Dining Room--Markers/chalks/paints
Ballroom--monogram
Billiardroom--circles
Conservatory--flowers
Library---lots of words/newsprint
Study--stickers
Kitchen--diecuts