Ok so I admit. I really hate downloading pictures on here. It is so time consuming. Here are a few challengs I did over at www.Mommysavers.com
THis one was to be inspired by a picture of some daisys. I got this image from a swap and I believe it is from www.stampingbella.com
This one was to use the word fun on the card or layout
Christmas in June. Plan ahead and make a Christmas or Holiday card:
Use this recipe A flower, stamped image and a Brad: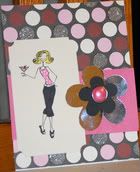 This one is based off a sketch. I just love this little moose!
last but not least this is my least favorite of the 6 cards I made, Summer themed:
I am working on 2 Crops right now and hopefully will have some new creations up soon. Thanks for looking!