Can you believe it? I went to the Dollar Tree and pick up a few little baskets and stackables and set off to get my scrap area cleaned up.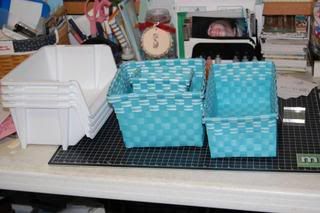 First is the shelf that houses my magazines, Cuttlebug stuff, Cricut stuff, Punches and other miscellaneous. I moved my glitter and embossing powder and tried to place stuff into the baskets and stackables so that it was not just loose on the shelf.
Here is the shelf before:
And After:
My table is a disaster waiting to happen. It is a catchall for anything that comes it's way. I wanted to have more open space with less clutter. I moved all of my paper to one end and then left enough room for me to have for scrapping.
Before: (OMG it is HORRIBLE!)
After: (Ahhh much better!)
This shelf had a lot of stuff moved off the top and I added all of my embellishment boxes, stamps, and sticker binders there. And the cart next to it has all of the stamp sets that I have.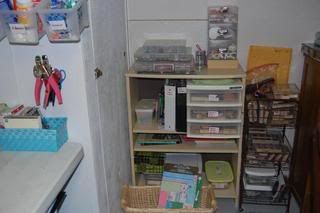 This is my paper area:
and the paper holder that I made out of used Priority Boxes it fits my 12 x 12 papers perfectly!
And all of my 4 1/2 paper stacks that I am addicted too!
Ribbon is on a spool and then crammed in a big jar:
So I am exhausted after that but really think that I need to get some challenges done for the crop at Mommysavers.
Zzzzzzzzz