Ok so just as promised I am going to post some of the projects that I have been doing for an online crop I am in on www.mommysavers.com
This first one is for a challenge to use a title on a photo. This is a page about my sweet sister Melissa with Down's Syndrome
Close up of title on photo: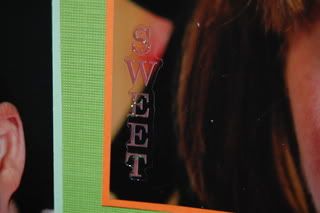 Challenge was to use a Tag:
Close up of Tag:
This next one is a voting challenge. Do a card and a page without pictures. The page came out very shiny in the picture and there are fingerprints all over the shiny paper. Oh well. The page is for the pictures of Ashlynn playing Guitar Hero on the Wii. It is one of her favorite games.
I love how the card turned out. I would love a birthday cake like that!
Hopefully I can get some more down this weekend. It has been so nice out that I hate the thought of being inside. We shall see.....