I just didn't realize it would be so soon! I loaded some more pictures of projects.
This one has taken me a couple of days to complete. I am making chore charts for the girls. I used my Cricut for just about everything on them. George, Indie Art, Makin the Grade and Home Accents. I love how they turned out! I used Magnetic Tape for the check marks (stars, flowers and circles) and then added a strip at the bottom for the girls to put them on.
Ashlynn wanted a Rocker type chart: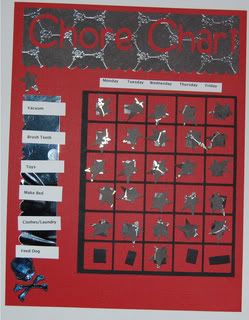 Brooklyn wanted flowers and butterflies:
And Kaylin wanted Spiderman so I added some spiders and will find a Spiderman sticker to put in the corner:
And here it is adhered to poster bored with the strip at the bottom ready to be hung on the wall!
And then a fun little card for a crop at www.homesweethome.forumsland.com
Thanks for looking!